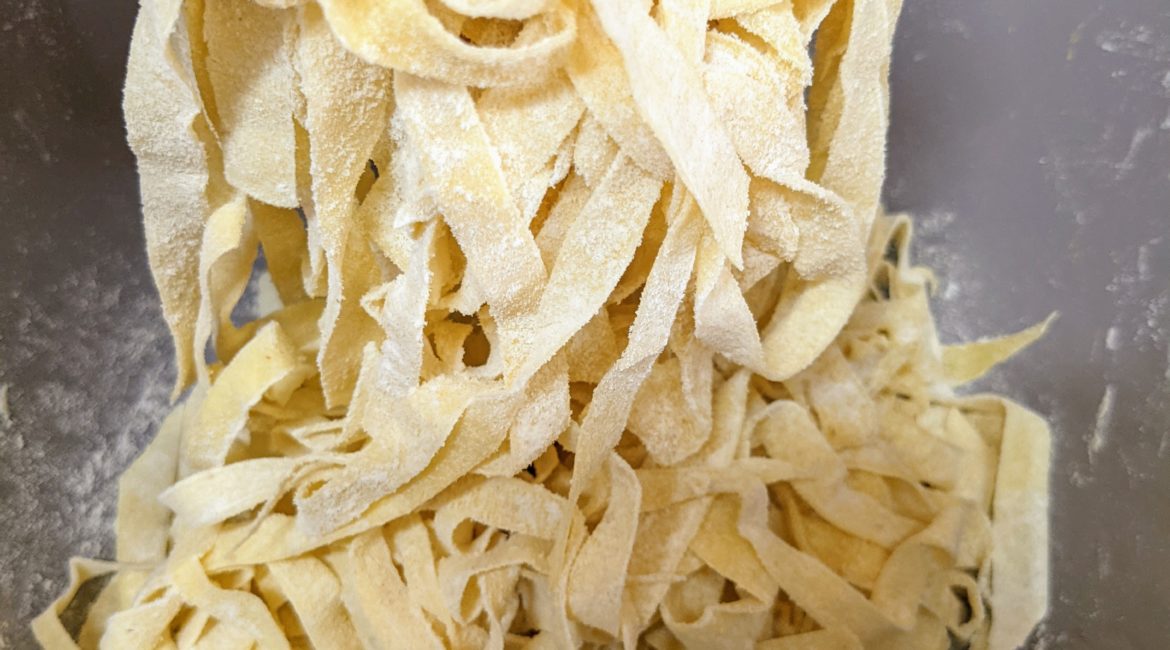 Yields:

2 Servings
Difficulty:

Medium
Prep Time:

40 Mins
Cook Time:

3 Mins
Total Time:

43 Mins
Homemade pasta is a winner. But sourdough pasta? It's just a whole new experience. If you've never worked with a sourdough starter, it's difficult to explain the flavor and aroma of the dough and cooked pasta. The smell of flour fermenting reminds me of a bakery. It's floral. It's unmistakable. It fills the air. It's delicious.
If you're a sourdough baker, this is also a good use of the discard when one feeds their starter. I often make crackers with my discard, sometimes chocolate cake, or cinnamon rolls. Being able to make fresh pasta with it is not only a great idea. It's healthier and tastier too. And the sourdough component keeps it fresh longer.
This basic recipe is for two dinner servings or four appetizer servings. It requires the use of a sourdough starter. If you don't have one, replace it with 12.5 g and 12.5 g flour.
Combine all ingredients, except for water which you will sprinkle only a little at a time until you make a soft cohesive ball with no dry spots, kneading gently for about 3 minutes. Cover and rest for 30 minutes. This allows the liquid components to be fully absorbed and for the gluten network to form.

On a floured surface, divide the ball into four and roll each portion thinly using a rolling pin or a wine bottle.

Using a metal scraper or bench knife, cut the pasta dough into thin strips.

Coat in flour and set aside. (Uncooked pasta may be stored in the fridge for a week or in the freezer indefinitely.)

Cook the pasta in boiling water for 2-3 minutes until al dente.

Add your favorite sauce or toss into your favorite pasta recipe and serve promptly.